earn your spot in the super cup
Playing in the All-American Series gives each player the opportunity to be selected as one of the TOP PLAYERS from each Series location, allowing participation in the All-American Golden Cup held at the end of the year in Naples, Florida (East Version) and Mesa, Arizona (West Version). From there, players are selected for the All-American Super Cup and earn the recognition as one of the "NATION'S BEST PLAYERS" for the year. If your player is invited to play in the Super Cup, you will not want to miss this opportunity.
COULDN'T MAKE OUR GOLDEN CUP EVENT? Another possible way to be selected (if spots are not filled up yet) to play in the Super Cup is by our thorough nomination process for players that couldn't attend our Golden Cup event. Fill out the NOMINATION FORM with as much details as possible. Knowing the Super Cup is a "Very Exclusive" event, we guarantee our scouts will reach out to the player's club coach or trainer for more information. If your player is selected, you will receive the official selection email allowing you to register for the event.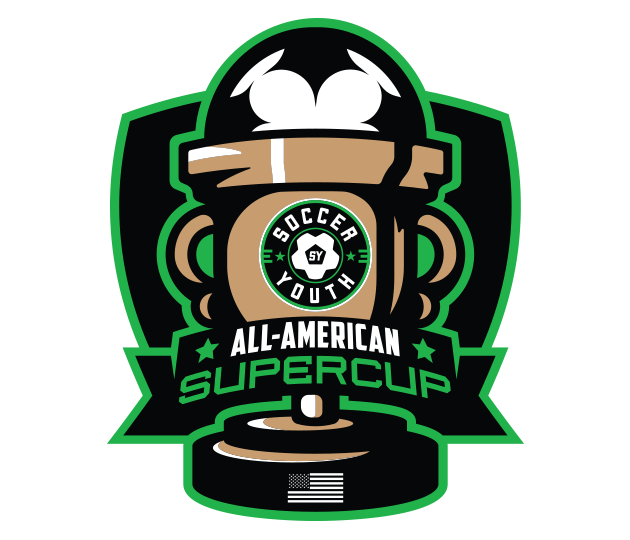 Registration cost: $495 per player. Included in the registration cost is the All-American Super Cup Kit (two jerseys, shorts, socks, swag bag, and bag tag).
Highlights of the All-American Super Cup:
4 game guarantee + team practice + evaluation session!
All-American Super Cup consist of players from around the nation (and, in some cases, the world)! Players are placed on Soccer Youth teams and compete against each other for the All-American Super Cup Championship.
All-American Super Cup Awards for Champion and Runner-Up teams, as well as individual achievement awards: Golden Ball, Golden Boot, Golden Gloves, Playmaker, and Lockdown Defender.
Opportunity to participate in our Player Card Combine featuring six different Skills Challenges.
Opportunity to be selected to represent Soccer Youth in the 3v3 LIVE National Championships and other national events featuring the TOP PLAYERS in the country from our Soccer Youth events.
NOMINATION PROCESS: We're now taking nominations for those players that couldn't make the Golden Cup event. The Super Cup is expected to fill up with HUNDREDS of the TOP PLAYERS from our Soccer Youth events. Fill out the nomination form with as much details as possible. Knowing the Super Cup is a "Very Exclusive" event, we guarantee our scouts will reach out to the player's club coach or personal trainer for more information