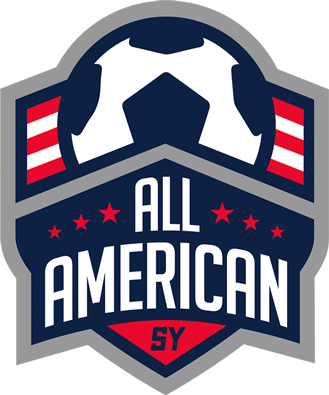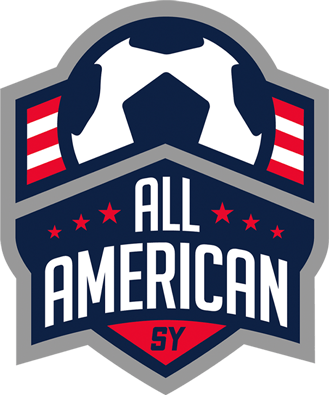 Compete in the Skills Challenge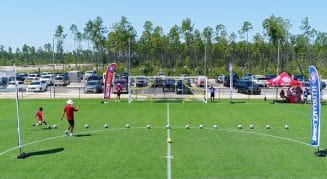 Apart from the action our Soccer Youth All-American events offer, players have the opportunity to compete in several fun skills challenges during the event. Challenges such as the Sharp Shooter and Goalkeeper Wars provide a unique experience for any player, testing their strengths in a fun environment! Any player in any position is welcome to participate in these challenges! 
You can sign up for these events during your initial player registration process by selecting these add-ons or REGISTER BELOW. Cost to participate is $35 per player. If you wish to sign up for these events while at check-in at the event your player is participating in, a $10 late registration fee will be added to the cost of those challenges.
Players will shoot 15 soccer balls and 1 golden ball into an All-American SKLZ net. The SKLZ net covers the soccer goal, with only the corners of the goal open. Each player will have 15 soccer balls lined up at a specific distance (15 or 18 yards / depending on division), and a golden ball will be at a farther more challenging distance. The points system is as follows: top corners are 20 points, the bottom corners are 5 points, and the golden ball is worth double the amount of points depending on the corner you place it in. All shots, including the golden ball, must be taken within the specified time. In the case of a tie, it comes down to time first. If the tie isn't broken by time, a one ball shootout takes place. 
Groups/Distances/Times (subject to change):
2011-2015: 15 yards, 1 min
2005-2010: 18 yards, 1 min
Keepers in the same age group are pinned against each other in a one versus one war to see who the ultimate goalkeeper is! Goalkeeper Wars implements every aspect of the goalkeeper position from shot stopping, kicking, throwing, punting, and even the half volley! Will you be the best goalkeeper in the event? Participate in the Goalkeeper Wars for your shot!
Field Dimensions: 2009 and older (Goal Size: 6×18)
Length of field: 22 yards (split into 11-yard halves)
Width of field: 12 yards
First Line: 4 yards (Shooting line)
Field Dimensions: 2010 and younger (Goal Size: 6×18)
Length of field: 18 yards (split into 9-yard halves)
Width of field: 10 yards
First Line: 4-6 yards (Shooting line age dependent)
Players must stay in their own half of the field at all times. If a rebound is given into the opponent's half they are able to strike the ball first time, and if they score it counts for 1 point.
Players can score from the following:

Drop Kick/ half Volley
Side Volley
Throw
Stationary Kick (Goal Kick)
Roll to Set to Kick

Time Limit

Two 2.5 minute halves with 45 sec halftime
<a href="https://thinkyouthsports.formstack.com/forms/sharp_shooter_registration" title="Online Form">Online Form - Soccer Youth All-American Series - Sharp Shooter Registration</a>