The player ranking comes from an evaluation session and a final ranking after the All-American event is complete. The final score is based on the performance during the event and is specific to the player's birth year. All player rankings are added to all profiles after event completion.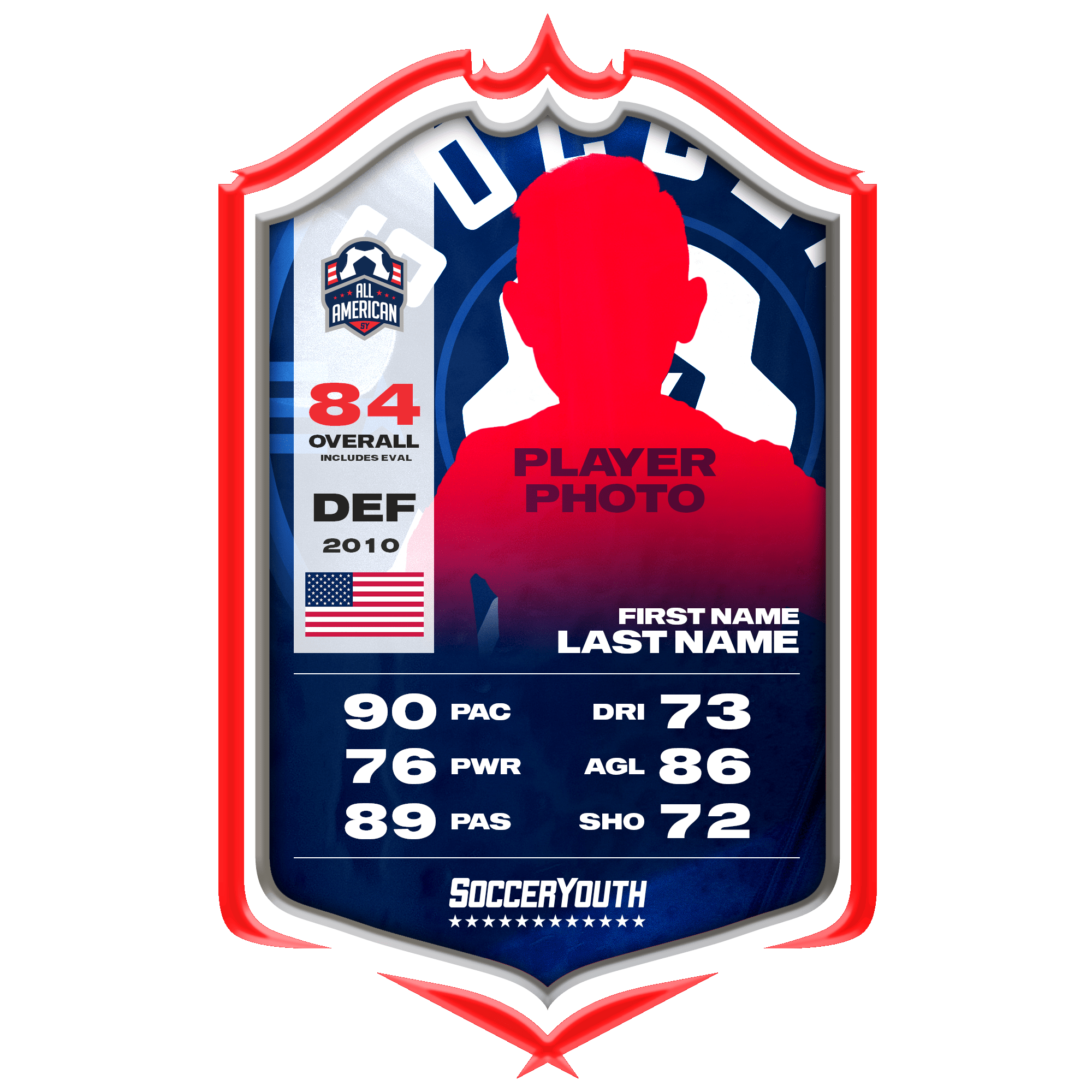 Player has not participated in the Player Card Combine.
The Player Card Combine test a player's skills that they have worked years on developing by competing in six different test. A scaled rating system is used to give the player a true and accurate score based on their specific birth year and gender.
League Achievements: Fall 2019 Heartland Division 5 Champions / Fall 2020 and 2021 Heartland Division 4 Champions / Spring 2022 Heartland Division 2, 3rd place / Fall 2022 Heartland Division 1, 2nd place / Currently playing in the NL Midwest Conference League Tournament Achievements: Fall 2021 Show Me State Games U12 Champions Fall 2021 Heartland Midwest Classic U12 Champions Fall 2021 MO Rush Show Me Showdown U12 Champions Fall 2021 HIT All Girls U12 Champions Spring 2022 KC Champions Cup U12 Champions Spring 2022 Lou Fusz Invitational U12 Finalists Spring 2022 Midwest Mothers Day U12 Finalists Spring 2022 Junior Cup (inaugural) U12 Champions Fall 2022 Fall Kickoff Challenge U13 Champions Fall 2022 Challenger Sports Invitational U13 Finalists (lost in PKs) Spring 2023 Border Battle U13 Finalists Individual Achievements: 2021-2022 ODP cycle developmental player June 2022 ODP Regional ID Camp invite November 2022 ODP Midwest Regional Team member (played at the Interregional in Orlando, FL) 2022-2023 ODP 2010 MO State Team member February 2023 Selected to the Pool Team at the Memphis ODP Interregional event (top players at the event)
Analia is a 7th grader at Smithton MS in Columbia, MO. She began playing soccer at age 9 after being a competitive cheerleader for several years. She took to the sport quickly being the leading scorer on her team in each season she has played. She loves being active and enjoys running track, playing basketball, jumping on the trampoline and playing outside with her friends and the dog. She is an AVID student and has been on the honor roll throughout middle school. Analia is artistic and creative and loves designing, inventing and working hands-on in woodworking, baking and pottery. She has aspirations to go to college and play soccer while getting an education in something she loves!