The player ranking comes from an evaluation session and a final ranking after the All-American event is complete. The final score is based on the performance during the event and is specific to the player's birth year. All player rankings are added to all profiles after event completion.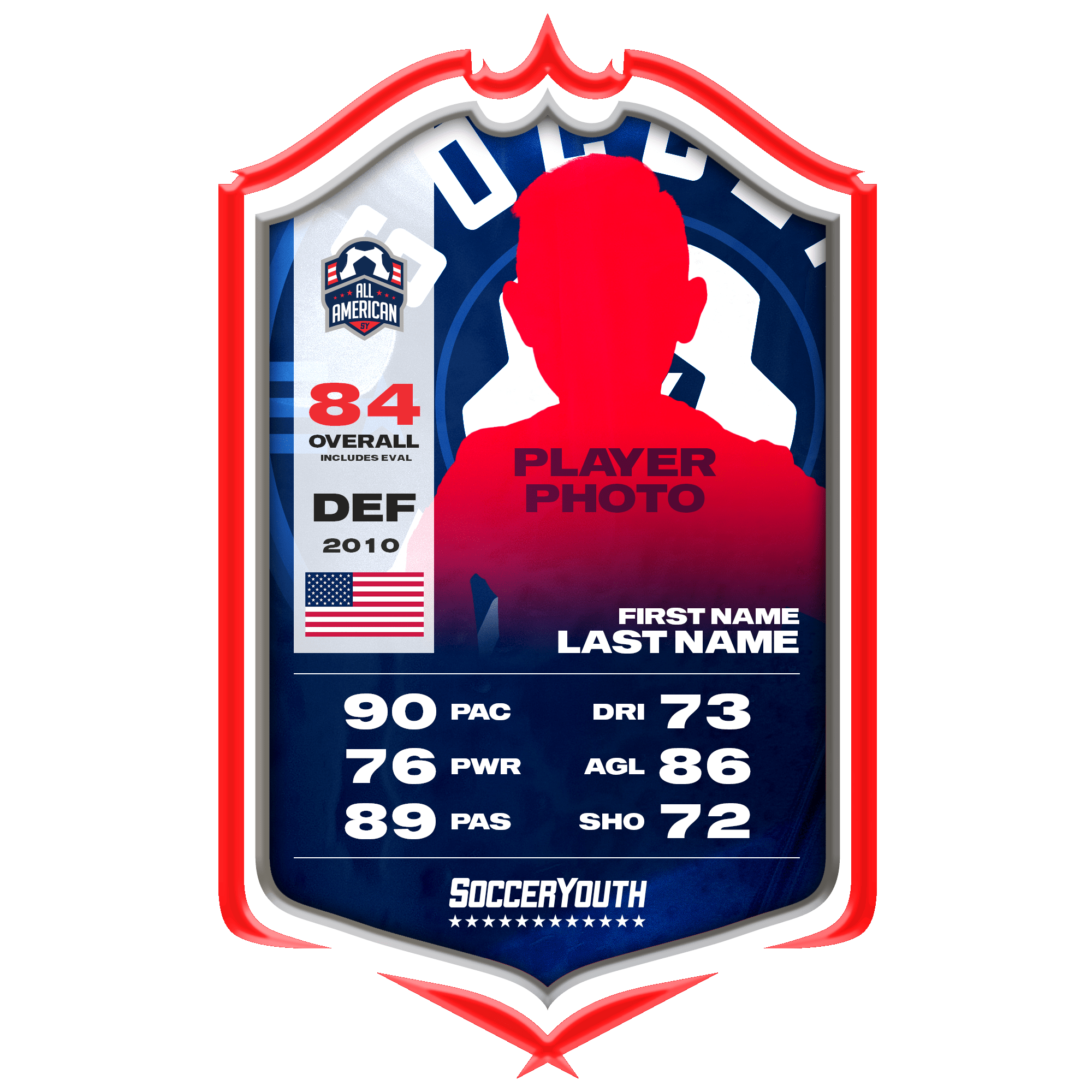 Player has not participated in the Player Card Combine.
The Player Card Combine test a player's skills that they have worked years on developing by competing in six different test. A scaled rating system is used to give the player a true and accurate score based on their specific birth year and gender.
Current MLS Next Bethesda team enters 2023-24 season ranked #1 out of 6,000 teams in the U.S. & Canada (GotSport Ranking) Mundialito (Spain) Second Flight Champion - 2023 President's Day Cup (Williamsburg, VA) Top Flight Champion - Spring 2023 Alexandria Kickoff Cup (Alexandria, VA) Top Flight Champion - Spring 2023 USYS National League Champion - Spring 2023 (No Losses) 2023 State Cup (MD) Semifinalist 2023 Eastern Regional Qualifier 2023 Regional Futsal Finalist for In10sity - DC area club with multiple national championships 2022 Camp Age Group MVP - University of Virginia, & Virginia Tech University Attended Six University Camps - All ACC Schools Selected to 2023 Gothia Cup (Sweden) for FC New England - Rostered for 2010 & 2009 Scouted to travel to Japan in summer 2024 with team from Hawaii
A quick, crafty midfielder-forward from the nation's capitol region, Matteo is known for playing like he has glue on his feet. Matteo plays for powerhouse Bethesda Soccer Club, and he is one of the most exciting youth players to watch in his age group.. Due to his small stature, Matteo currently bio-bands with Bethesda 2011 MLS Next while also playing with 2010 teams within and outside of his regular season club. He has played in Spain, Denmark, and Sweden, and is already on the radar of at least six ACC coaching staffs.