The player ranking comes from an evaluation session and a final ranking after the All-American event is complete. The final score is based on the performance during the event and is specific to the player's birth year. All player rankings are added to all profiles after event completion.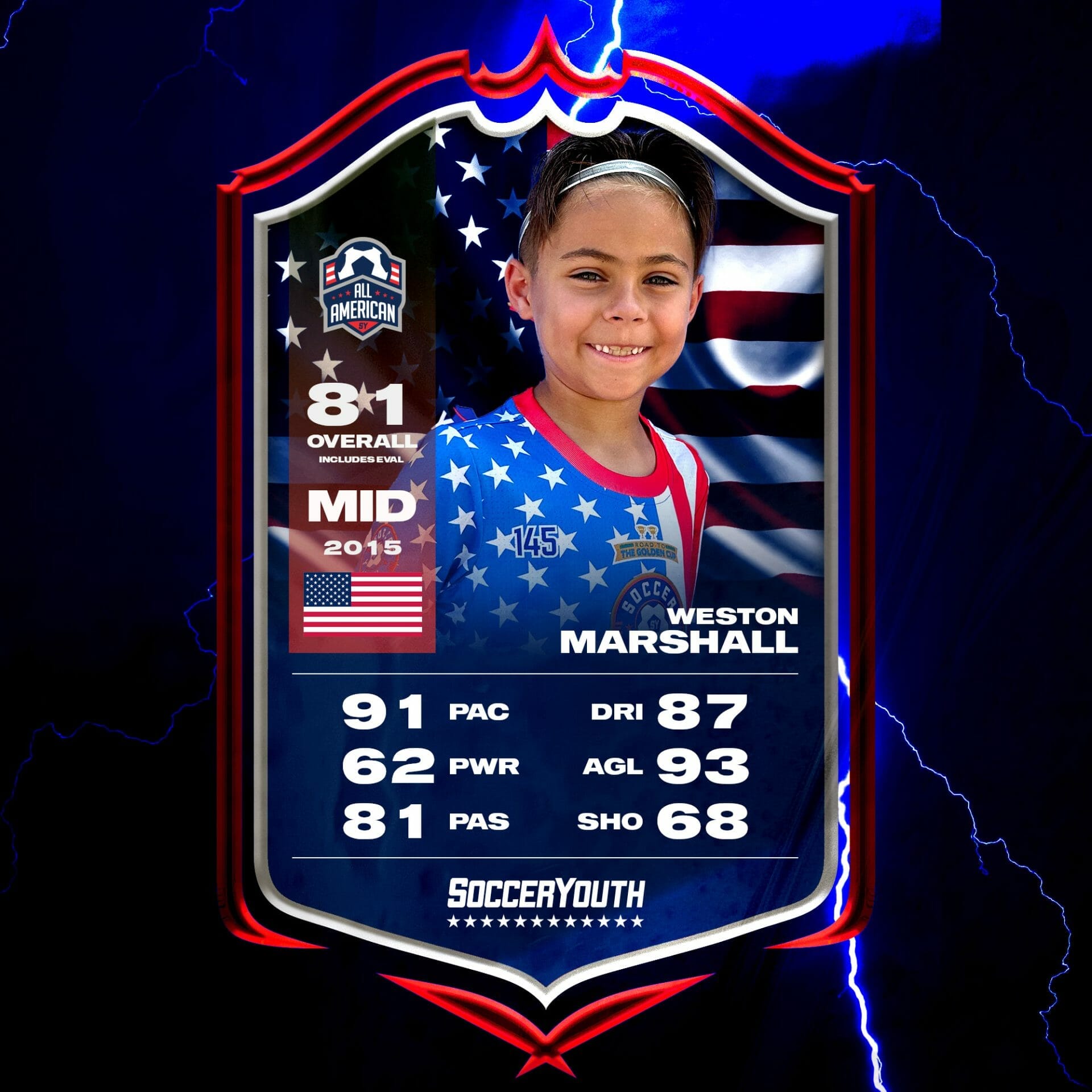 Player has not participated in the Player Card Combine.
The Player Card Combine test a player's skills that they have worked years on developing by competing in six different test. A scaled rating system is used to give the player a true and accurate score based on their specific birth year and gender.
2023 U9 Finalist- The Cup, College Station, TX; 2023 U9 Champion- Reliant Energy Power Cup, Houston, TX; 2023 U9 Champion- Houston Premier Cup, The Woodlands, TX; 2022 U8 Finalist- Memorial Day Cup, Houston, TX; 2021 U8 Finalist- RISE Volt Classic, Houston, TX
Weston is a 2015 athlete that has been playing up with 2014/2013s for two years now. As Team Captain this past year, he has demonstrated leadership and maturity. He has held his teammates accountable for the energy, dedication, and hard work that they bring to training and game day. He is small, fast, intense and skilled. However, do NOT let his small frame fool you- he is fierce, fearless, physical and ready to take on any challenge and any size player. He is a skilled goalkeeper that emerged as an outstanding midfielder this past year. Wes' vision on the field is far beyond his age and he demonstrates an impressive soccer IQ. He is a playmaker for his team. His time dedicated to training in the goal has led him to be a physical defender and an aggressive striker. Weston has aspirations of playing professionally but he is humble. He's always ready to work and he loves the game. Always working, always dreaming, always believing…Weston never lets a day pass without being on the ball. He is a rising star at RISE SC and he works with multiple trainers in the Houston area to make sure he is always ready for the pitch. Be sure to follow Weston's journey from boy to baller on Instagram.